Arrrr!!!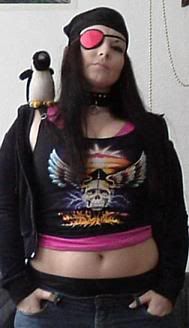 Don't tell me the parrot on my shoulder looks like a penguin... WE DON'T LIKE TO HEAR THAT!!! ARRR!!!
So I received AmyJo's eye-patch today (along with a really cool sticker and Leroy Neiman postcards) and I feel like it was Xmas in June in February in March! Plus, AmyJo seems to be some sort of authority here in Germany, because the German customs office marked the letter that it is an "official letter" and therewith doesn't need to be checked by German customs.
Anyway, THANK YOU AmyJo - a little gift for you will be send on its way soon.
OK, I'm off doing, umm, pirate stuff now. Arrrr!!!